Para todos los interesados en iniciarse en el violento oficio de escribir diría Rodolfo Walsh, estos libros serán de gran utilidad. Algunos pretenden ser guías para escribir, otros sólo intentan transmitir un poco de esa sabiduría que sólo la experiencia puede brindar. Al final, son apoyos que todos necesitamos para tener más claro lo que deseamos hacer y cómo lograrlo.
Espero les sean de ayuda. He tenido la oportunidad la mayoría de los ejemplares que conforman esta lista, cada uno a su modo aporta consejos que mejoran en gran la manera en la que creamos historias.
1-Writing Fiction for dummies
So you want to write a novel? Great! That's a worthy goal, no matter what your reason. But don't settle for just writing a novel. Aim high. Write a novel that you intend to sell to a publisher. Writing Fiction for Dummies is a complete guide designed to coach you every step along the path from beginning writer to royalty-earning author.
2-
Writing the Breakout Novel
Maybe you're a first-time novelist looking for practical guidance. Maybe you've already been published, but your latest effort is stuck in mid-list limbo. Whatever the case may be, author and literary agent Donald Maass can show you how to take your prose to the next level and write a breakout novel - one that rises out of obscurity and hits the best-seller lists.
Maass details the elements that all breakout novels share - regardless of genre - then shows you writing techniques that can make your own books stand out and succeed in a crowded marketplace.
3- Writing Down the Bones by Natalie Goldberg
For more than twenty years Natalie Goldberg has been challenging and cheering on writers with her
This new edition, which marks almost twenty years since the original book's publication, includes a new preface in which Goldberg expresses her trademark enthusiasm for writing practice, as well as a depth of appreciation for the process that has come with time and experience. Also included is an interview with the author in which she reflects on the relationship between Zen sitting practice and writing, the importance of place, and the power of memory.
books and workshops. In her groundbreaking first book, she brings together Zen meditation and writing in a new way. Writing practice, as she calls it, is no different from other forms of Zen practice —"it is backed by two thousand years of studying the mind."
4- 20 Master Plots and How to Build Them by Ronald B. Tobias
Give your story a solid foundation—a plot that engages readers from start to finish!
The best stories linger in the hearts and minds of readers for decades. These tales gain their power
Inside Ronald B. Tobias details these 20 time-tested plots. Each is discussed and analyzed, illustrating how a successful plot integrates all the elements of a story. Tobias then shows you how to use these plots effectively in your own work.
Tobias then goes to the next level, showing you how to choose and develop plot in fiction. He shows you how to craft plot for any subject matter, so that you develop your work evenly and effectively. As a result, your fiction will be more cohesive and convincing, making your story unforgettable for readers everywhere.
5-The 38 Most Common Fiction Writing Mistakes (and How to Avoid Them) by Jack M. Bickham
When you write fiction, you march onto a minefield. This book gives you a map.
Oh, what tricky terrain you're traveling! You must reckon with: Character, Conflict, Point of View, Dialogue, Editors, Editors, and Editors, who--by returning stories they see as problem-plagued--can burst your hopes of publication.
Where are the problems? Editors rarely take the time to map them out, so Jack Bickham has. In this book, he spotlights the 38 most common fiction writing land mines--writing mistakes that can turn even dynamite story ideas into slush pile rejects. And he guides you in overcoming them.
6-Writing Begins with the Breath: Embodying Your Authentic Voice by Laraine Herring
In this distinctive guide to the craft of writing, author Laraine Herring shows us how to tune into our bodies and connect with our emotions so that our writing becomes an expression of our full beings, rather than just an intellectual exercise. With warmth and wisdom, Herring offers a path to discovering "deep writing"—prose that is unique, expressive, and profoundly authentic. Lessons and imaginative exercises show you how to: stay with your writing when your mind or body starts to pull you away; explore the five senses in your writing; and approach your writing without judgment.

7-How to Write a Damn Good Novel by James N. Frey
Written in a clear, crisp, accessible style, this book is perfect for beginners as well as professional.
An international bestseller, How to Write a Damn Good Novel will enable all writers to face that intimidating first page, keep them on track when they falter, and help them recognize, analyze, and correct the problems in their own work.


writers who need a crash course in the down-to-earth basics of storytelling. Talent and inspiration can't be taught, but Frey does provide scores of helpful suggestions and sensible rules and principles.
8-Cómo NO escribir una novela
En Cómo no escribir una novela, Howard Mittelmark y Sandra Newman aplican sus años de experiencia como editores y escritores para identifi car los 200 errores más comunes que cometen los escritores y enseñarnos cómo evitarlos. Muchos libros ofrecen consejos sobre cómo escribir bien. Éste no es uno de ellos. A través de hilarantes ejemplos muestra cómo conseguir que tu manuscrito jamás llegue a ser publicado: cómo los personajes son a veces versiones aburridas del propio autor, cómo un argumento puede resultar de lo más tedioso, cómo el estilo puede plagarse de tópicos? Delirantemente divertido y extremadamente útil, Como no escribir una novela te ayudará a conseguir, entre carcajadas, que tu manuscrito pase de la pila de las editoriales a las librerías.
9-Mientras escribo
Pocas veces un libro sobre el oficio de escribir ha resultado tan clarificador, útil y revelador. Mientras escribo empieza el relato de la asombrosa infancia de Stephen King y su extraño y temprano interés por la escritura. Una serie de vívidos recuerdos de la adolescencia, de la universidad y de los años de lucha que lo llevaron a la culminación de su primera novela, Carrie, aportan al lector una amena y divertida perspectiva sobre la formación del escritor.
10-Marketing para escritores
En Marketing para escritores, Neus Arqués analiza el proceso de lanzamiento de un libro, los pasos a tener en cuenta en su difusión: el estar o no en la lista de los más vendidos, la cadena por la que debe pasar (autor-agente-editor-impresor-distribuidor-librero y puntos de venta-lector), las nuevas tecnologías, la cultura snack, etc. Un libro útil que nos descubre aspectos imprescindibles para llegar hasta el final con éxito.
11- Zen en el arte de escribir
Once exuberantes ensayos sobre el placer de escribir por uno de los más imaginativos y prolíficos autores del siglo XX, un escritor que disfruta en verdad de su oficio y nos explica por qué y cómo.
12-La página escrita
La página escrita no es un método de escritura al uso. Tampoco pretende ser el mejor manual o el definitivo. Es una ocasión única para compartir la pasión, el talento y la experiencia de este autor y aprender, paso a paso y de una manera clara, directa y, sobre todo, amena, las técnicas que Jordi Sierra i Fabra ha desarrollado a lo largo de los años para escribir sus novelas.
13- Cómo crear personajes inolvidables de Linda Seger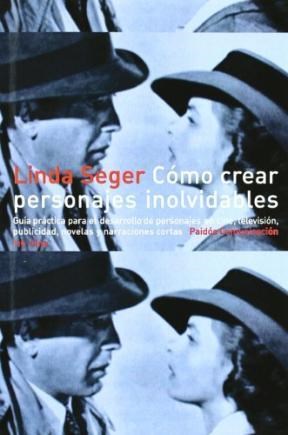 El principal objetivo de este libro de Linda Seger es la creación de personajes de ficción creíbles y bien definidos. La autora introduce toda una serie de conceptos diseñados para estimular el proceso creativo y los combina con técnicas y ejercicios prácticos. Y, a partir de ahí, expone tanto la necesidad de llevar a cabo un proceso de investigación como el modo de desarrollar una historia a fondo, pasando por el trabajo con la psicología de los personajes y el tratamiento de los estereotipos. Igualmente, se incluyen entrevistas con algunos de los mejores escritores de cine, televisión y publicidad de la actualidad, así como con novelistas y autores de obras de teatro. Como ha dicho el guionista Barry Morrow: «Con este libro, Linda Seger nos coge firmemente de la mano y nos sumerge en la esencia del drama, iluminando las vidas de los personajes que allí aparecen y que tantas cosas pueden enseñarnos sobre nosotros mismos. Una obra incomparable y absorbente que, sin duda, ha de formar parte de la lista de lecturas obligatorias de todo escritor que se precie.»
14-Pájaro a pájaro de Anne Lamott
Pájaro a Pájaro es más que un libro dedicado a todo aquel que quiera escribir o mejorar lo que ya escribe. Es un libro con lecciones sobre la vida, el trabajo, la creatividad y el amor por las historias. Es un libro tremendamente divertido con el que se aprende, entre otras cosas, a escribir mejor.